Location and Reservations - Northwest Ontario Fishing
How to reach Lac Seul's Whitewing Resort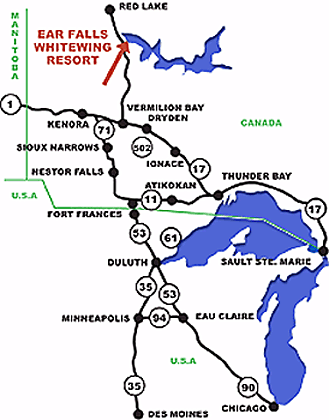 If you are entering Ontario through International Falls - Fort Frances, follow Hwy. 11 east from Fort Frances to Hwy. 502, then north to Dryden. Once in Dryden, take Hwy. 17 west to Vermillion Bay, turn north on Hwy. 105 and go 60 miles. We are five miles south of Ear Falls.
If you are in Fort Frances, you can take Hwy. 11 west to Hwy. 71 through Nestor Falls and Sioux Narrows to Hwy. 17 near Kenora. Take Hwy. 17 east to Vermillion Bay. Take Hwy.106 north 60 miles.
Distances from cities:
Chicago-870 Miles
Des Moines-785 Miles
Duluth-390 Miles
Fargo-485 Miles




Kansas City-980 Miles
Milwaukee-920 Miles
Omaha-920 Miles
Quad Cities-820 Miles




St. Louis-1120 Miles
Sioux Falls-755 Miles



Summer:
Reservations
To secure the dates of your choice, it is necessary to reserve your trip as soon as possible. All cabin packages require a $100.00 deposit per person and a deposit of $1000.00 is required to reserve houseboats via credit card to hold reservation. Payment in full will be required at check-in and a credit card will need to be on file for incidentals. The balance of your trip must be paid for in U.S. cash, Travelers Checks, Visa, MasterCard, American Express or Interac (debit card). Any customer paying via credit card will be charged a 4% processing fee. Upon receiving your deposit, you will be promptly sent information for your date and receipt for your deposit. We cannot offer refunds for late arrivals, early departures, no-shows or reduced party size, so please be sure to notify us of any changes. Rates are quoted in U.S. funds and are subject to Ontario sales tax H.S.T. Rates and exchange could change without notice.
No refunds