Houseboat Rentals – Lac Seul's Whitewing Resort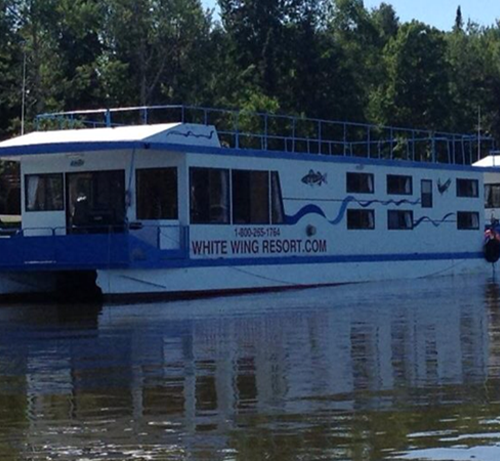 Our houseboats are 16' x 65' with 2 bathrooms, one shower and sleep up to 12 people comfortably.
Houseboat plan includes: generator, propane stove, fridge, BBQ, fish cooker, heaters, microwave, coffeemaker, toaster, all dishes and cookware, pillows, pillowcases and bottom sheet, one 15 cu. ft. freezer, one 16' aluminum boat (motor not included but available to rent).
Houseboat and guide boat gas is not included in rental. Gas will be refilled when boat is returned to dock to be added to final bill.
Houseboats with up to 8 people $3,800.00 per week
Each additional person above 8 $400.00 per week
Houseboat guide required in and out $175.00 each way and will be paid separately to the boat's captain.
Private gas is not allowed to be transported or used in any of Whitewing Resort equipment.
Check-in time for Houseboats is 10:00 a.m. Saturday morning, and check-out time is 5:00 p.m. Friday evening.
A deposit of $1000.00 is required to reserve houseboats. Payment in full will be required at check-in and a credit card will be held on file for incidentals.
No refunds or transfers
Rates are quoted in U.S. funds and are subject to Ontario sales tax H.S.T. Rates and exchange could change without notice.
Boats & docks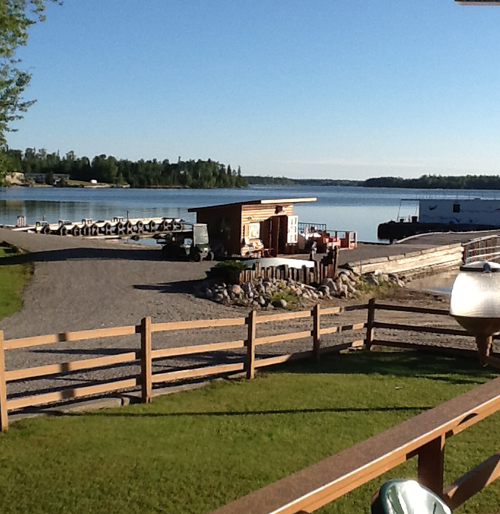 The rental of our boats and motors includes gas tank, paddles and safety kits. Please bring your own life jackets as they are MANDATORY for everyone in Ontario.
Private gas is not allowed in our equipment.
Per day per week
30 hp 16' Naden $100 per day $500 per week
40 hp 18' Lund $120 per day $700 per week
60 hp 18' Lund $140 per day $800 per week
24' Pontoon 90 hp $180 per day $880 per week
Our boats, 18' Lunds have vinyl coated floors, seats, storage compartments, bilge and rod storage.
Things to bring:
Life jackets are mandatory, minnow buckets, dip nets, coolers, rain gear, cameras.
For houseboats:
Sleeping bags or blankets, bath linens, paper towels, toilet tissue. The balance of your trip must be paid for in U.S. cash, Travelers Checks, Visa, MasterCard, American Express or Interac (debit card). Any customer paying via credit card will be charged a 4% processing fee. Upon receiving your deposit, you will be promptly sent information for your date and receipt for your deposit. We cannot offer refunds for late arrivals, early departures, no-shows, or reduced party size, so please be sure to notify us of any changes. Rates are quoted in U.S. funds and are subject to Ontario sales tax H.S.T. Rates and exchange could change without notice.